Perfect Christmas presents for the discerning artist
Le Coin – My Studio with Christmas Tree by Francis Ferdinand Maurice Cook Source

Stuck for ideas for that artist friend or sketching sibling?
We've got the perfect presents for them to unwrap this Christmas to help unlock their creativity.
Discover how you can help them…
• Unleash their first Monet of Christmas
• Deck their Warhols with boughs of holly
• Realise their dream of a stretched white canvas
• And simply let it Kahlo! Let it Kahlo!
Here's our pick of gorgeous gifts for your artistic loved ones.
Gorgeous gifts for artists
Brushes, pens, markers and paint sets of all shapes and sizes!
Our winter wonderland of artist's materials just goes on and on, so we've put together a selection of the very best to make choosing that gift for the art fans in your life that little bit easier.
Whether they are an amateur dabbler, curious creative or picky professional, here are the gifts that will put a smile on their face bigger than those two front teeth they claim to really want every year.
All they want for Christmas: browse our gifts for artists
Artist gift #1
This Essdee Lino Cutting and Printing Kit will give them everything they need for the perfect lino this noel.
It provides a comprehensive assortment of tools and materials for both cutting and printing with lino - and there's two types of lino to practise on.
Lino cut Christmas cards Source
Artist gift #2
Winsor & Newton never fail to impress.
The quality of their oil paints is legendary - and this gift set of artist oils comes in a beautiful, environmentally-friendly Bamboo Box Set.
High quality brushes and palettes complement eight tubes of Artist Oil Colour, including Winsor Yellow, Crimson Alizarine, Winsor Blue (Red Hue), Winsor Green, Yellow Ochre, Burnt Sienna, Ivory Black and Titanium White.
Speaking of the white stuff, we love this oil by Peter Doig: that icy water is almost viscous!
Blotter by Peter Doig Source
Artist gift #3
Don't be fooled by the name.
This set of 36 Liquitex acrylics have been designed to be affordable - but not at the expense of quality.
Each colour has been uniquely formulated to bring out the maximum brilliance and clarity of the individual pigment. The paints have a heavy body whose smooth, buttery consistency makes for beautiful blends.
That treacly texture also lends itself to emulating the tactile peaks and brush marks of oils, but these acrylics can also be used to achieve watercolour techniques, airbrush finishes and perfect prints.
Go on, bring a bit of colour to Christmas this year!
A Little Bit Tipsy, Christmas Eve, 1996 (The Old Hoss) by William A. G. Ward Source
Artist gift #3
This is much more than a studio easel.
The Daler-Rowney Cotswold Easel is made from the finest oiled beechwood and its sturdy frame can be adjusted by height or tilt to offer a range of canvas positions.
What really sets it apart, however, is its portability. At the twist of just five Allen screws this easel can be transported anywhere.
Like Tahiti, perhaps?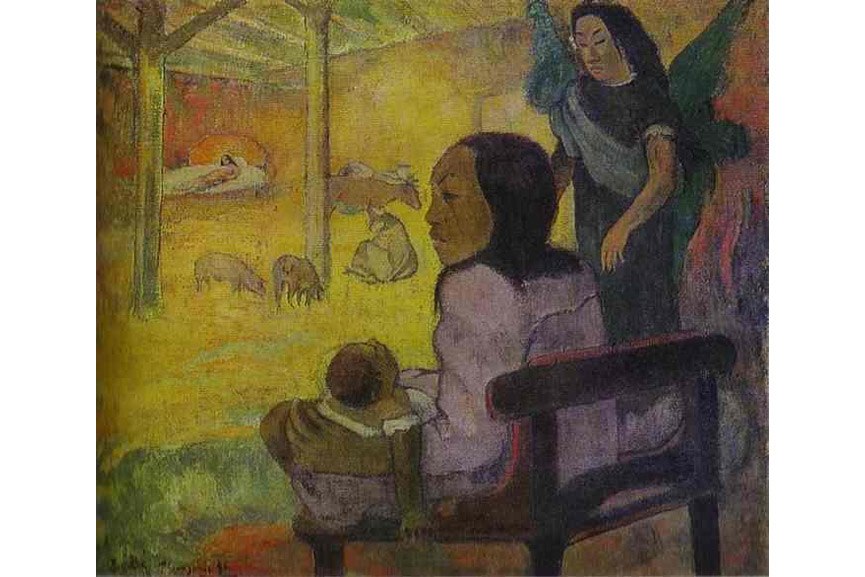 Baby (Nativity Of Tahitian Christ) by Paul Source
Need some more inspirational gifts from the heart for the art lover in your life?
We've got you covered.
All they want for Christmas: browse our gifts for artists
And in our next post we'll help you place something under the tree for any design lovers proving difficult to buy for as well.
In the meantime, why not check out with our other Christmas gifts?
Take a look and get Christmas wrapped up today.
Christmas Market at Cirencester, Gloucestershire by Nelson Rooke Source
Luxury creative gifts
Beautiful stationery gifts
Gifts for artists
Gifts for designers
Art and design gifts under £100
Art and design gifts under £50
Art and design gifts under £20
Art and design gifts under £10
Arty stocking fillers
Innovative games and puzzles
London Graphic Centre gift cards
Have a creative Christmas, From all of us at LGC :)